Our Mission
Through love and Christ-centered teachings, we are God's hands and feet, spreading the news of Jesus' saving love.
At IMPACT Church we invite families and community members to learn about God's glory, and to join us in living it out.
I'm Impact Church
You're Impact Church
We're Impact Church

Who is IMPACT Church?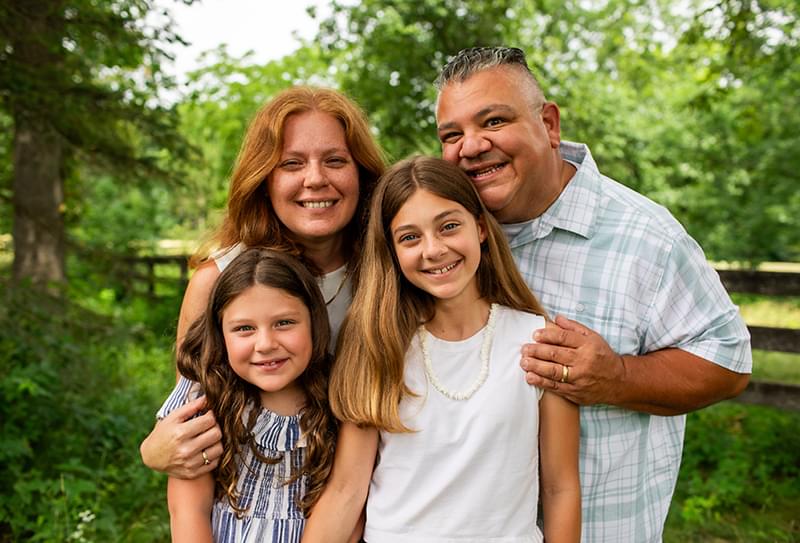 Meet our family — Pastor Anthony Pelegrino, his wife Tracy, daughters Sarah & Abigail.
Pastor Anthony grew up in the Clearing neighborhood of Chicago. Tracy is from Chatham, Illinois near Springfield. Anthony and Tracy met while both working part-time for a financial planning company. Anthony then became a full-time financial adviser while Tracy remains part-time and a full-time primary school Art Teacher in Bellwood, Illinois.
Listening to God's calling, Anthony became a minister through the Illinois School of Ministry (ISOM) and was ordained through the Assemblies of God in May of 2016. As a family they are building IMPACT Church and welcome all to join them in their extended church family.
Our goals are bold!
As Impact Church grows it will become the umbrella under which additional ministries will operate.
This includes ImpactMinistries the evangelistic arm of the church, where we go out to the community and meet the people.
Impact Home, a group home enabling those seeking refuge a place to build a new life.
Impact Center, a new community center capable of bringing life changing resources to the people of Maywood and beyond.
That's Impact.
That's Impact Church.
Our Values
Christ-centered.
In all we do!
The Bible.
We base everything we do from the Bible, which is our guide. It is God's authoritative and infallible message to us.
The Holy Spirit.
We welcome the gifts and fruit of the Spirit.
People.
We want people of ages, creeds, colors and genders to join us so that they can hear the Great News about Jesus—and so that they can go tell their stories.
Gospel.
We believe in the Great Commission and consider it a privilege to help people make the decision to make Christ their Savior!
Discipleship.
We love to mentor, lead and develop leaders for Christ to be active in God's Kingdom.
Missions.
We are passionate about local, national and international missions.
Prayer.
We believe in the power of continual prayer. As a house of God, we have a relationship with the One True Maker!
Our Vision
Our vision is far-reaching. We may be located in the heart of Maywood, a community that struggles under the burden of socioeconomic hardship. But our impact expands outward—well beyond the borders of any one neighborhood.
We believe that our work is not done until those we serve live out God's message, becoming His hands and feet. We educate and inspire our flock, empowering them to grow into evangelists, missionaries, pastors and church planters.
Through our work, we touch souls.
And that makes for infinite impact.